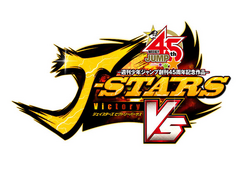 J-Stars Victory Vs (originally titled as Project Versus J) is a crossover video game of series run in Weekly Shounen Jump by Namco Bandai Games for PlayStation 3 and PlayStation Vita. The game was first announced in December 2012, in the second 2013 issue of Weekly Shōnen Jump. It was made to commemorate the 45th anniversary of Jump, and it is presented as the "ultimate Jump game". It was released on March 19, 2014.
International release
Edit
The game was released a year later for PlayStation 4 (both Japanese and international copies) as well as re-released on its original platforms for international audiences. No new content is added other than English subtitles/dialogue in story mode, as all Japanese voiceovers are kept. Additionally, the title is updated as J-Stars Victory VS+.
Playable Characters
Edit
Support Characters
Edit
External Links
Edit